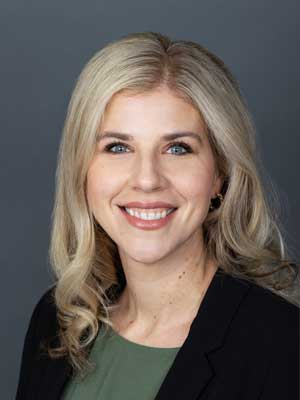 Courtney Goin
Courtney Goin joined ATC in September of 2023 as a Development Officer. Born and raised in Wichita, KS, Courtney graduated from the University of Kansas with a Bachelor of Arts degree in Human Biology and a minor in Spanish.
After graduation, Courtney followed her two older sisters and moved to the Kansas City area. She has worked in various roles in senior living for over 16 years from Sales and Marketing to Director of Operations. Courtney's commitment to the eldercare and disability community is evident in her personal life, as well. She is an active volunteer for the Alzheimer's Association and the KU Alzheimer's Disease Center and has been a Support Group leader for over 10 years. Courtney currently holds a position on the board for Professionals in Aging in Johnson County.
She and her husband, Jason, who she met in the Rotary Club, have three sons – 12 years old and under who keep them very busy. The family enjoys all things basketball, the beloved KC Chiefs, summertime pool days and visiting family in Arizona. They also love Netflix and movie nights at home where many bowls of popcorn are consumed.