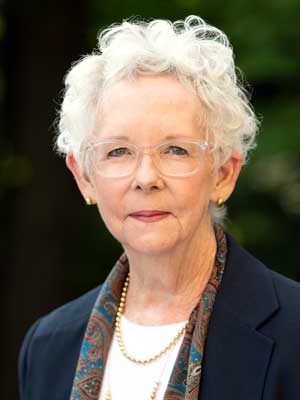 Evie P. Curtis
Evie P. Curtis joined our Assured Trust team as Development Director in April 2021. She comes to us with decades of experience in banking, trusts, and philanthropy. Prior to joining us, Evie was enjoying a brief retirement with her husband volunteering in our State Parks
Evie has lived quite an exciting life. As an Army brat, Evie traveled the world during her childhood spending most of her early years in France and Germany. She then settled in the state of Georgia and completed a Bachelor of Arts degree in Economics and Math from Georgia State University before embarking on her banking & trust services career at C&S Bank & Trust in Atlanta. After moving to Kansas City, Evie worked for Boatmen's Trust Company/Nationsbank N.A./Bank of America. During this time, Evie completed an MBA at Baker University and later on, accepted a Senior Vice President and Trust Officer position with Country Club Trust Company where she worked for 11 years.
Additionally, Evie is a Distinguished Toastmaster with Toastmasters International, where she held various leadership positions such as Club Sponsor, Club Mentor, Club President, District 22 Treasurer, and D22 Auditor. She was also a Paul Harris Fellow for Rotary International and Past Board Chair for several organizations including Foundation on Aging, Kansas Advocates for Better Care, Mid America Planned Giving Council, Estate Planning Society of Kansas City, & Kansas City Hospice and Palliative Care Planned Giving Advisory Board. She has served as a National Speaker on Estate Planning, Fundraising, Advocacy, as well as Financial Abuse & Exploitation.
As her bio proves, Evie has professionally and personally worked to help people take charge of their lifestyle choices and live safely in the setting of their choice… all to help others assure their tomorrow.